TW Madrid 2015
Technical specifications
Location:
100 km

in less than 32 horeas

When:
5-6 July 2014
Where:
Slope

The lowest point, Rascafria, is 1.163m. We will climb to about a uns 1.734m. Here you have the route and tracks.

Registration:
In Register your team, before June 15, 2014
Teams:

4 walkers + 2 support crew with a vehicle

. Team changes allowed till April, 22

Donations:
Minimum 1.500 euros per team before the event
* The technical details will be confirmed the weeks before the Trailwalker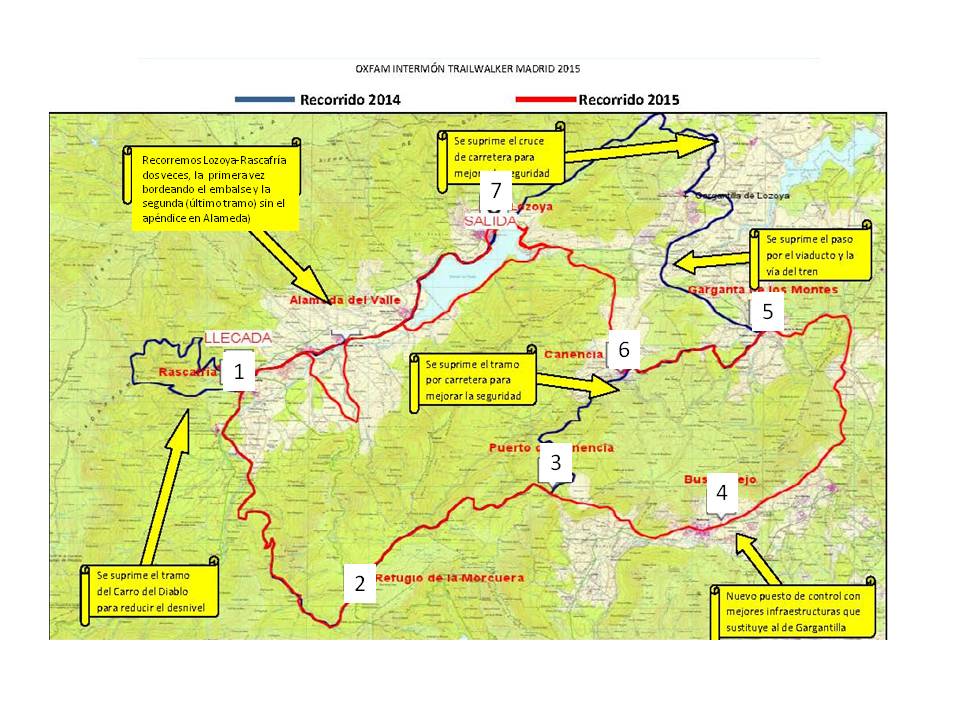 Collection of dorsals
Friday, July 4 from 18:00 h to 22:00 h in the sports area of ​​Lozoya. To remove the dorsal necessary:
to have raised (visible on web site) a minimum of 1.500 euros (we will not accept donations on hand).
all members registered before June 29 have to stay at the moment of removing the dorsal or present autorization and id card (copy).
An accidents insurance provided by the organization will cover all participants registered on the website until June 29. Until that date you will find in your team profile a link to a form for changing team members. In case a team has failed to register a change before June 29, they will be not allowed to participate.
To reach together and conditions, do not forget (documents in spanish):
Consult checkpoints information
Review the sporting regulations
Review the required materials.
Download the route and GPS TRACKS .
Follow the sanitary precautions and diet advice: in all control points will be water and fruit and another product that some companies collaborate, but the mainstay (breakfast, lunch, dinner) it must facilitate the support team.
Use the calculator to calculate route schedules, pace and breaks.