Dads of Vallgorguina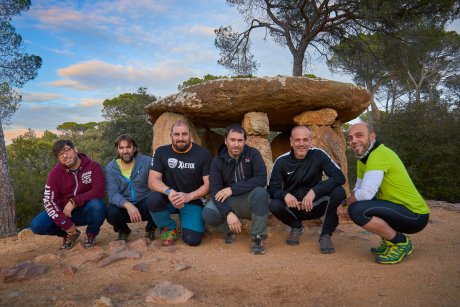 Som un grup de bons amics de Vallgorguina que s'embarca dins aquest gran repte sol.lidari, formant un equip molt il.lusionat, amb gent que repeteix experiencia i d'altres amb la seva primera participació, tots disposats a deixar-se les cames i la pell.
Amb el vostre ajut, petit o gran però sempre inprensicindible, farem arribar tots aquest kilòmetres per aigua a l'Àfrica. Voleu formar-hi part??
Infinitament agraïts a familia, amics i tots aquells que poseu de la vostre part per poder dur a terme aquest projecte.
Gràcies a tots, i que comenci l'aventura!!
Send TW (space) G25 to 28018.
Cost: 1.2 euro (full donation to Oxfam Intermón). Fund-raising text service in solidarity campaign run by Oxfam Intermón (www.oxfamintermon.org) Customer Service: 900 22 33 00, PO Box 310 – 08080 Barcelona. Collaborators: Movistar, Vodafone, Orange, Yoigo and Euskaltel. OXFAM INTERMÓN will process your personal data to send you information and propose other types of participation. For further information and instructions on exercising your rights, you may consult the privacy policy.
Piula
El equipo
Daniel Canet Rico
Jordi Hurtado Capalvo
Jordi Majó Ayguavives

Rafa López Lainz
Oriol Escoda De Diego

Donativos
| Date | Name | Amount | Comment |
| --- | --- | --- | --- |
| 24.02.2020 | Cristina Vidal | 40,00€ | A gaudir de l'experiència! Tot el nostre suport. Xavi i Cristina |
| 04.02.2020 | LAURA AGUILERA CARRILLO | 120,00€ | MOLTA SORT!!! |
| 28.01.2020 | SISTEMA NOU BAU S.L. | 120,00€ | |
| 17.01.2020 | GESTIO DEL NOLIT, S.L. | 100,00€ | |
| 16.01.2020 | CODIMAR S.L. | 250,00€ | CODIMAR OS APOYA EN VUESTRA AVENTURA Y PARA QUE SIGAIS CAMINANDO MUCHO MÁS!!!!!!!!! |
| 30.12.2019 | VICO DESPATX ARQUITECTURA TECNICA SCPP | 30,00€ | Ànims! |
| 02.12.2019 | ECOKLEEN 2012, S.L. | 150,00€ | |
| 30.11.2019 | David Magdaleno | 50,00€ | |