Trailwalker Euskadi 2018
Technical specifications
Location:
100 km in less than 32 hours.

When:
May 2018, 19-20
Where:

Vitoria Mountains

Registration:
In Register your team, before May 14
Teams:

4 walkers + 2 support crew with a vehicle

. Team changes allowed by May, 14.

Incompleted teams are not allowed to participate.
Donations:
Minimum 1.500 euros per team before the event
* The technical details will be confirmed the weeks before the Trailwalker
PATROCINADOR PRINCIPAL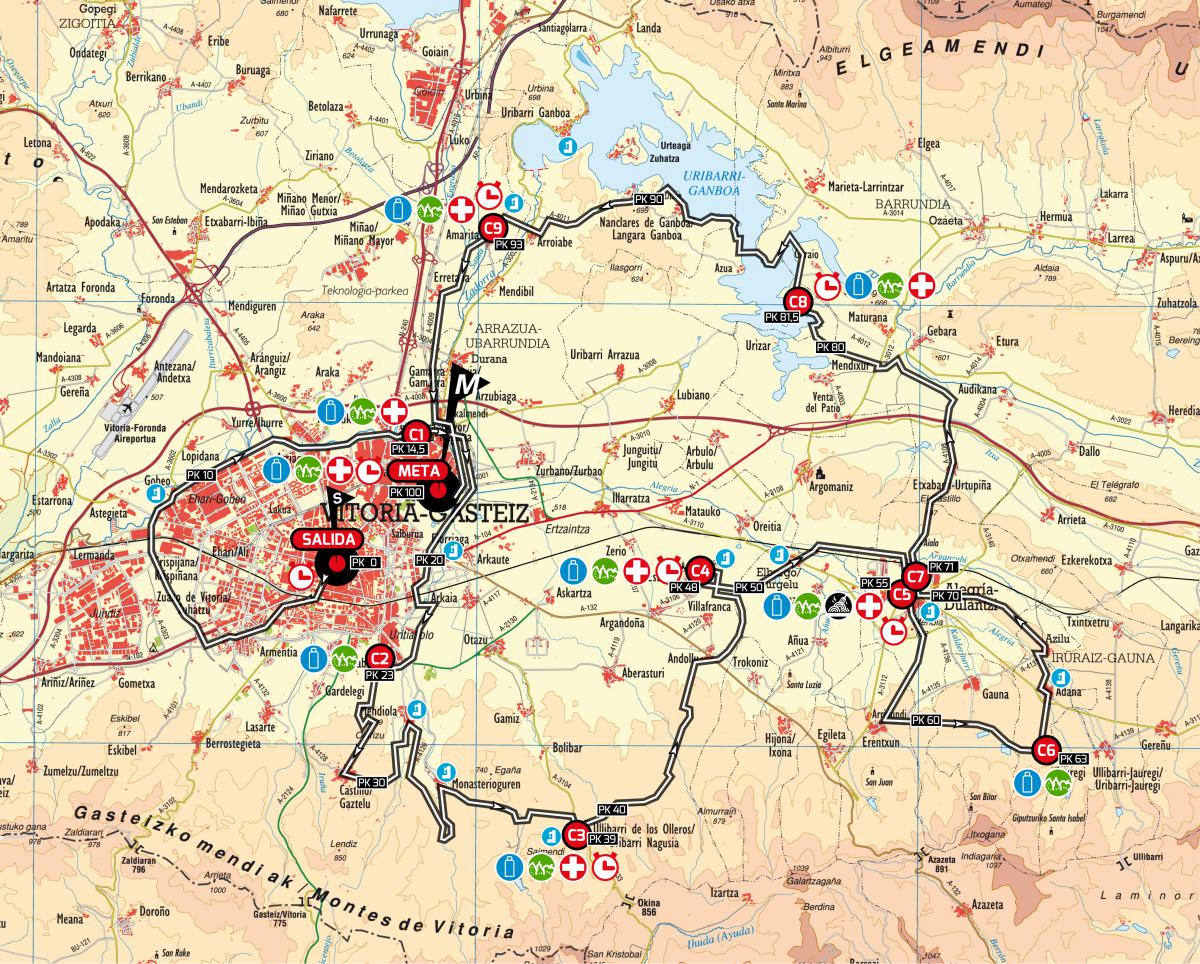 Required materials
At the time of departure and during the progress we make material controls to ensure that bear the required material. Remember it's for your safety. No carry mandatory material may be cause for disqualification.
Material required by walker
Dorsal chip (provided by the Organization)

Bracelets (provided by the Organization)

4 captive

cell phone

Survival blanket (thermal blanket aluminum least 220 x 140cm)

Bottle or hydration bag (minimum 1L.)

Headlamp and extra batteries

Vest or reflective material for road crossings

Jacket or windbreaker

DNI or identity card
Material required for the support team
2 mobile phones. Battery Charger.
Material required per team
2 emergency kits: a

first aid

one

to be brought by w

alkers and a more complete one to be brought by assistance. The Team is responsible for prescription drugs and painkillers, and not provided by the Organization.

Route 2 books (material provided by the Organization): one for walkers and one for assistance.
Optional Material recommended
Towels and toilet paper

Sports Shoes parts

Shirts, pants and socks parts

whistle

breathable clothing

Sweatpants, short tights or pirates

Sunscreen and petrolatum

Long Sleeve

Blanket or sleeping bag

utility knife

Sunglasses
Supplies
Menus for the route prepared by the team of support (Motius Cent)
Morcuera 16 h: soup, toast with ham, rice salad, potato omelette.
Bustarviejo 22 h: soup, pasta with tomato (precooked and heated stove), chicken nuggets.
Garganta 2 h broth, bread with tomato and turkey, cheese.
Canencia 6 h: soluble coffee with milk, muffins, bread with tomato and salami, cheese ...
While walking between checkpoints is important to keep in the backpack nutrition and hydration products. Currently there are many drinks developed to consume during exercise. Have low doses of carbohydrate and allow to maintain sugar levels in the blood. To ensure effectiveness of hydration level is equally important that contains minerals, this improving the intestinal absorption of sodium and water. Is advised to take every half hour 0,5l of water because it is advisable to drink before you get the sensation of thirst.
If we can eat any solid food is recommended every 30-60 minutes. It's better to eat easily digestible foods like ice, candy, energy bars or fruit. The fruit can be fresh (preferably banana and orange) or dry (dates, raisins and figs). At this time we can afford the pleasure of eating chocolate (preferably black and Fair Trade).