El equipo
Zoí Daskalakis Aymamí
Esther Ramirez Conde
Jordi Cortit Subirà

Antony Massey
Solange Molina Urrutia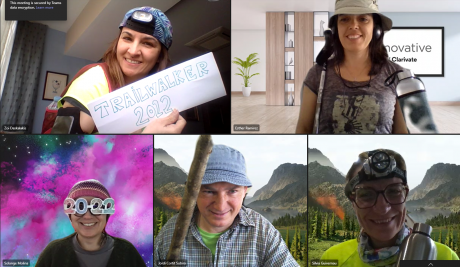 Los "Remote Walkers" (Caminantes remotos) son en realidad compañeros (remotos y motivados) de trabajo: Esther, Zoí, Solange, Jordi y Sílvia que han decidido unirse a este gran desafío deportivo y solidario. Caminaremos 50km en menos de 16 horas y nuestro objetivo es no solamente cruzar la meta sino luchar contra la desigualdad que provoca la crisis climática consiguiendo que miles de personas vulnerables tengan acceso a agua segura y a condiciones adecuadas de higiene y saneamiento para poder tener una vida digna.
El agua es vida, totalmente básica e imprescindible y queremos acercar agua potable a tantas familias como sea posible mediante la instalación de infraestructuras sostenibles en comunidades desfavorecidas, promoviendo hábitos de higiene como lavarse las manos con jabón, y el uso de letrinas para prevenir epidemias y reducir enfermedades como la diarrea o la manutrición infantil.
Vamos a convertir nuestros kilómetros en agua. ¿Te animas? ¡Súmate al reto, tu aportación se convertirá en agua!
¡GRACIAS!
(ENG)
The Remote Walkers are a group of motivated (and remote) work colleagues: Esther, Zoí, Solange, Jordi and Sílvia, that have decided to join a physical and solidarity challenge. We will walk 50km in less than 16 hours and our goal is to cross the finish line while fighting against inequality caused by the climate crisis. With our kilometers and your donations, we will provide access to clean water to thousands of people and make sure they can have a better life.
Water is life, basic and essential and we want to bring water closer to as many families as possible by funding sustainable infrastructures in vulnerable communities, promoting hygiene habits like hand washing and the use of latrines to avoid epidemics and reduce diarrhoea and childhood malnutrition.
We will transform our kilometers into water. Would you like to join us? Your donation will become water!
THANK YOU!
Envia un SMS amb el text
TW G5056 al 28018
Cost 1,2 euros (donació íntegra a Oxfam Intermón). Servei de SMS per a recaptació de fons en campanya de tipus solidari operat per Oxfam Intermón At. Client: 900 22 33 00, Ap. Correus 310, 08080 Barcelona. Hi col·laboren Movistar, Vodafone, Orange, Yoigo i Euskaltel. OXFAM INTERMÓN tractarà les teves dades personals amb la finalitat d´enviar-te informació i proposar-te altres tipus de participació. Si vols tenir més informació i vols conèixer com exercir els teus drets pots consultar la política de privacitat.
Piula
Donativos
| Data | Nom | Import | Comentari |
| --- | --- | --- | --- |
| 21.05.2022 | César Enrique Goñi valle | 100,00€ | Felicidades a todxs los participantes. Cada gota de Amor llenará nuestro Océano colectivo |
| 18.05.2022 | Emily Anne Burgos | 20,00€ | RAFFLE |
| 18.05.2022 | Emily Burgos | 20,00€ | RIFA |
| 12.05.2022 | Sarah Bonnin | 10,00€ | Raffle |
| 11.05.2022 | Marta Estruch | 5,00€ | raffle |
| 11.05.2022 | Charo Diez | 30,00€ | I would like to participate in the raffle. |
| 06.05.2022 | Ana Gonzalez Sanchez | 10,00€ | 2 Raffle tickets |
| 05.05.2022 | Clair Moyney | 15,00€ | Raffle Ticket please :) |