Anem a córrer pel vermut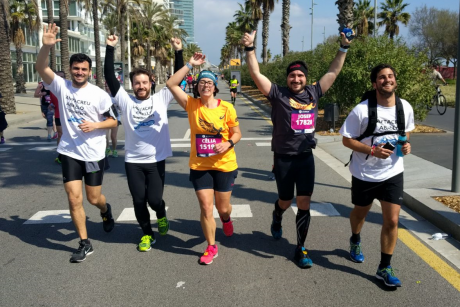 Hola som els membres de l'equip "Anem a córrer pel vermut".
La nostra història es remunta a un parell d'anys on un grup d'amics vàrem decidir unir-nos per practicar conjuntament dues de les activitats que més apreciem: per una banda el participar en curses populars i per l'altra gaudir del vermut.
Iniciant-nos a les curses populars de 10k, no vam parar de sumar km's fins a assolir alguns reptes que ens fan molta il·lusió i cada cop més exigents. Aquest 2017 hem corregut la marató de Barcelona, hem fet la triatló de Barcelona i hem anat fins a Euskadi a córrer la Behobia-SS!
De cara al 2018 ens hem proposat un nou repte més ambiciós encara, no sols per la distància a recórrer sinó per la solidaritat que l'acompanya: CORRER LA TRAILWALKER!!
Ens fa molta il·lusió poder-hi participar, ens hi ajudes?
---------
Hola somos los miembros del equipo "Anem a córrer pel vermut".
Nuestra historia empezo un par de años atrás cuando un grupo de amigos decidimos unirnos para practicar conjuntamente dos de las actividades que más nos gustan: participar en carreras populares y lo más importante; disfrutar del vermut.
Empezando por las carreras populares de 10k, no paramos de sumar km's hasta conseguir algunos retos que nos hacen mucha ilusion y que son cada vez más exigentes. Durante el 2017 hemos corrido el maratón de Barcelona, la triatlón de Barcelona e incluso fuimos hasta Euskadi para correr la Behobia-SS!
Para el 2018 nos hemos propuesto un nuevo reto aún más ambicioso, no solo por la distancia a recorrer sinó por la solidaridad que la acompaña: CORRER LA TRAILWALKER!!
Nos hace mucha ilusión poder participar, ¿no ayudais?
---------
Hello we are the members of the team "Anem a córrer pel vermut".
Our history began a couple of years ago when a group of friends decided to gather in order to practice together two of our activities that we like the most. The first one participate on amateur races and the second one to share vermut between us (typical catalan drink).
We began with amateur races of 10k but we didn't stop there. We continue to add more and more km's since we manage to achieve challenges in we really believe and once and again tougher. On 2017 we have run Barcelona's marathon and thriatlon and we have even gone to Euskadi in order to run the Behobia-SS!
On 2018 we have decided to achive a new challenge even tougher, not only for the distance but the solidarity cause that goes with it: RUN THE TRAILWALKER!!
We are very exited to participate, do you want to help us?
Send TW (space) G140 to 28018.
Cost: 1.2 euro (full donation to Oxfam Intermón). Fund-raising text service in solidarity campaign run by Oxfam Intermón (www.oxfamintermon.org) Customer Service: 900 22 33 00, PO Box 310 – 08080 Barcelona. Collaborators: Movistar, Vodafone, Orange, Yoigo and Euskaltel. OXFAM INTERMÓN will process your personal data to send you information and propose other types of participation. For further information and instructions on exercising your rights, you may consult the privacy policy.
Piula
El equipo
Josep Aballó Estrada
Cèlia Santacreu Díaz
Carles García Ruiz

Marc Tegido Rivero
Paula Lladonosa Farré

Donativos
| Date | Name | Amount | Comment |
| --- | --- | --- | --- |
| 05.01.2018 | Victor Aguila | 33,00€ | Correu fins treure el fetge! Bestials! |
| 05.01.2018 | Lluis Badia Planes | 20,00€ | |
| 05.01.2018 | Arnau Solé Cabrera | 50,00€ | |
| 05.01.2018 | Cyclebox slu | 100,00€ | |
| 05.01.2018 | Jordi Cots Pairada | 30,00€ | Sou uns cracks!! Jo us espero al vermut!! |
| 04.01.2018 | Eduard Bargues | 30,00€ | |
| 04.01.2018 | Josep Ramon Espinet Claveria | 25,00€ | Eh, foteu por, home!!! |
| 03.01.2018 | ROSA OLIVARES OBIS | 30,00€ | |