RWU by Clubs DiR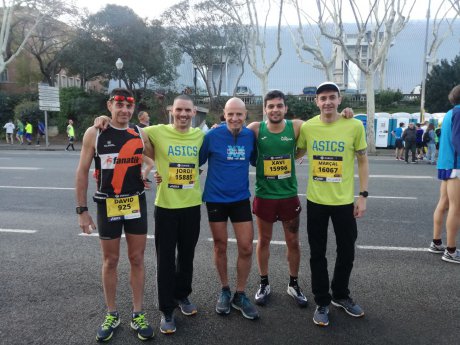 Novament, des de Clubs DiR participem a una nova edició de la Trailwalker Girona.
El proper dissabte 14 de abril de 2018 a las 10 horas a Olot, i com és habitual, recorrerem els 100 km en el mínim de temps possible per la Via Verda de Girona, coneguda també com la Ruta del Carrilet Olot-Girona.
RWU (Run With Us) by DiR és el Club de Running gratuït pels socis/es dels Clubs DiR. Es tracta d'una activitat dirigida i planificada pels nostres tècnics. L'objectiu del nostre club de running és donar servei pels amants d'aquest esport.
El nostre equip està format per Jordi Vázquez, Marçal Solé, Mia Carol, Jean-Pierre Baurier, Jordi Soler, David Fernández i na Susanna Urios. Tots junts compartirem l'experiència de la cursa, la solidaritat que comporta la mateixa, la constància i l'esforç de córrer-la.
Send TW (space) G33 to 28018.
Cost: 1.2 euro (full donation to Oxfam Intermón). Fund-raising text service in solidarity campaign run by Oxfam Intermón (www.oxfamintermon.org) Customer Service: 900 22 33 00, PO Box 310 – 08080 Barcelona. Collaborators: Movistar, Vodafone, Orange, Yoigo and Euskaltel. OXFAM INTERMÓN will process your personal data to send you information and propose other types of participation. For further information and instructions on exercising your rights, you may consult the privacy policy.
Piula
The team
MARÇAL SOLÉ PUY
MIA CAROL BRUGUERA
Jean-Pierre Baurier Casanovas

JORDI SOLER ALVAREZ
DAVID FERRANDEZ CANYADELL

Donativos
| Date | Name | Amount | Comment |
| --- | --- | --- | --- |
| 28.03.2018 | Anonimo | 1.500,00€ | |