TRAILSPOTTING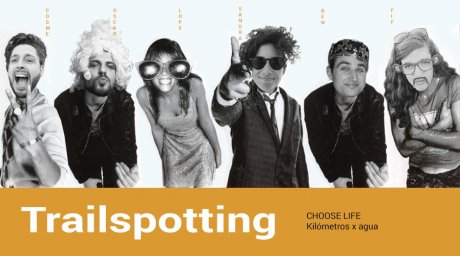 ¡KILOMETROS X AGUA!
¿NOS AYUDAS?
NECESITAMOS donativos para acercar agua potable a millones de personas que viven en la pobreza.
(English below)
AQUÍ LOS LOCOS: Somos Caroline, Oscar, Ben, Cosme, Sandra y Laura. Seis amigos a los que nos entusiasman los retos deportivos y la aventura. Estamos sensibilizados y concienciados con los problemas globales más complejos, siendo uno de ellos la falta de acceso a agua potable. Aunque éste es un derecho básico para la vida y la dignidad, millones de personas siguen sin acceso a agua limpia, enquistando el ciclo de pobreza.
¿QUÉ PODEMOS HACER NOSOTROS? En este caso, nos hemos unido al Trailwalker de la ONG Oxfam Intermón, bajo el nombre de equipo TRAILSPOTTING, en el que el 16-17 de Mayo caminaremos 100 kilómetros en menos de 32 horas, recaudando fondos para que OXFAM mejore el acceso al agua potable de miles de mujeres y sus familias.
¿QUÉ NECESITAMOS? Para poder participar, nos hemos comprometido a recaudar un mínimo de 1.500 EUROS para que OXFAM pueda seguir trabajando en proyectos de agua y saneamiento en las regiones y poblaciones más empobrecidas del planeta.
¡¡NECESITAMOS TU AYUDA para hacer este reto una realidad!! Cualquier contribución que puedas aportar, por mínima que sea, ayudará a miles de familias en todo el mundo. (DALE CLICK A "DONA AL EQUIPO")
Por una mayor sensibilización con los problemas del mundo, por tomar conciencia de nuestra responsabilidad como individuos y sociedad. Porque creemos y queremos una mayor justicia social y ambiental. Por todas aquellas mujeres y niñas que recorren kilómetros a diario para proveerse de este bien esencial para la vida.
Y finalmente, porque nos gustan los retos..¡¡y estamos un poco locos..!!
¡MUCHISIMAS GRACIAS! Con amor, locura y muchos kilómetros por agua,
El equipo TRAILSPOTTING (Caroline, Oscar , Ben, Cosme, Sandra y Laura)
(Nota sobre desgravación de donativos: Las aportaciones realizadas desgravan un 75% para los primeros 150€ donados. El importe restante desgrava un 30%, o un 35% si hace más de 3 años que ha colaborado de forma continuada. Las empresas pueden deducirse hasta el 35% en la cuota íntegra del Impuesto de Sociedades, con un límite del 10% de la base imponible.)
--------- ENGLISH HERE------
KILOMETERS 4 WATER!
¿CAN YOU HELP US?
We are fundraising to bring clean water to millions of people living in poverty.
WHO ARE WE (THE CRAZIES): We are Caroline, Oscar, Ben, Cosme, Sandra and Laura. Six friends who are excited about sport challenges and adventure. We are sensitized and aware of the most complex global problems; lack of access to clean water being one of them. Although this is a basic right for life and dignity, millions of people remain without access to clean water. The poverty cycle never ends.
WHAT CAN WE DO? In this case, we have joined the NGO's Oxfam Trailwalker, under the name TRAILSPOTTING. On May 16-17 we will be walking 100 kilometers in less than 32 hours, with the goal of raising funds for OXFAM's projects which improve access to clean water to thousands of women and their families.
WHAT DO WE NEED? In order to be able to participate in the Trailwalker, we have committed to raise a minimum of 1,500 EUROS so that OXFAM can continue working on water and sanitation projects in the most impoverished regions and populations of the planet.
WE NEED YOUR HELP to make this challenge a reality! Any donation you can make, no matter the amount, will help thousands of families around the world. (CLICK on "DONA AL EQUIPO" (Donate to the team)
For greater awareness of the world's problems, for becoming aware of our responsibility as individuals and society. Because we believe and want greater social and environmental justice.
And finally, because we like challenges ... and we're a bit nuts!!
MANY THANKS! With love, a healthy level of madness and many kilometers for water,
The TRAILSPOTTING team (Caroline, Oscar, Ben, Cosme, Sandra and Laura)
(Note on donation and tax relief: The contributions made deduct 75% for the first € 150 donated. The remaining amount deducts 30%, or 35% if you have collaborated continuously for more than 3 years. Companies can be deducted up to 35% in the full corporate tax rate, with a limit of 10% of the tax base.)
Send TW (space) G5267 to 28018.
Cost: 1.2 euro (full donation to Oxfam Intermón). Fund-raising text service in solidarity campaign run by Oxfam Intermón (www.oxfamintermon.org) Customer Service: 900 22 33 00, PO Box 310 – 08080 Barcelona. Collaborators: Movistar, Vodafone, Orange, Yoigo and Euskaltel. OXFAM INTERMÓN will process your personal data to send you information and propose other types of participation. For further information and instructions on exercising your rights, you may consult the privacy policy.
Piula
El equipo
Caroline Clélie Jaussaud
Benjamin Santos
Oscar Casañas Perez

Cosme Miralles Carol
Sandra Nadal de Ugarte

Donativos
| Date | Name | Amount | Comment |
| --- | --- | --- | --- |
| 01.05.2020 | Thaís Espinosa | 20,00€ | |
| 15.03.2020 | Liz Kennedy | 45,00€ | Wooohooooooo!! Love you! |
| 13.03.2020 | ELSA JIMENEZ BAILE | 25,00€ | A por todas!!! |
| 03.03.2020 | Lisa Bisceglia | 60,00€ | Adelante La Hurican! |
| 27.02.2020 | Nira LLARENA ALBERTO | 15,00€ | Ánimo! |
| 27.02.2020 | Anónimo | 60,00€ | Bien hecho equipo!!!! |
| 26.02.2020 | caroline jaussaud | 50,00€ | De parte de Dani Pelach ! |
| 25.02.2020 | Oskar Irmler | 60,00€ | |