AESA Prep Academy of Barcelona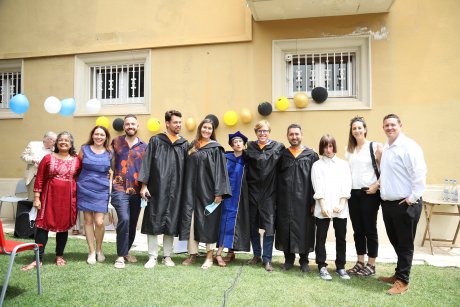 AESA Prep Academy of Barcelona is a Cognia (formerly AdvancED) accredited and NCAA Approved private college-prep school offering online educational programs for 8th through 12th grade students. Our partners also offer blended learning programs in select locations around the world.
Our educational model provides students with the flexibility they need to pursue their extracurricular passions and our robust curriculum prepares them for success at the university level.
We reinforce our world-class academics with extensive support services to enhance student learning and encourage successful completion of coursework.
Nombre empresa:
AESA Prep International, SLU
Send TW (space) G5296 to 28018.
Cost: 1.2 euro (full donation to Oxfam Intermón). Fund-raising text service in solidarity campaign run by Oxfam Intermón (www.oxfamintermon.org) Customer Service: 900 22 33 00, PO Box 310 – 08080 Barcelona. Collaborators: Movistar, Vodafone, Orange, Yoigo and Euskaltel. OXFAM INTERMÓN will process your personal data to send you information and propose other types of participation. For further information and instructions on exercising your rights, you may consult the privacy policy.
Piula
El equipo
Jacqueline Lucas
Anuradha Mitra Ghosh
Chloé de Balthasar de Riedmatten

Francisca Jiliberto
Francesco Roset

Donativos
| Date | Name | Amount | Comment |
| --- | --- | --- | --- |
| 09.10.2021 | Joost de Weger | 50,00€ | |
| 07.10.2021 | Eric Corral Fontanet | 10,00€ | Corre Simón! |
| 07.10.2021 | Xavier Villalba Altayó | 10,00€ | Muchos ánimos! |
| 07.10.2021 | Bea Oteros | 15,00€ | |
| 07.10.2021 | Luke Meginsky | 30,00€ | "Run, Forest, Run!" |
| 06.10.2021 | Christine Kelly | 30,00€ | Great job Jacqueline!! Xoxo |
| 05.10.2021 | Jacqueline Dawn Neff Fox | 10,00€ | |
| 04.10.2021 | Rick Garza | 250,00€ | The Teachers at AESA always go the extra mile for their students. Now they are literally going the extra miles, or kilometers, for this great cause! We are so proud of you!! And we are very happy to help support your effort!! |