Bishaan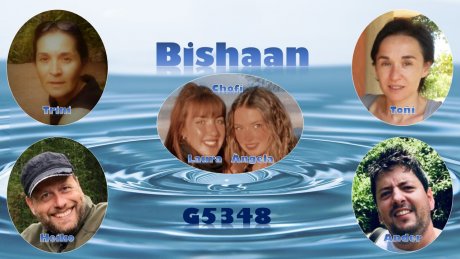 Bishaan means water.
In Ethiopia, to get to water often means long walks and heavy loads, which predominantly is a burden on girls and young women who therefore have to miss out on school.
We are Trini, Toñi, Ander and Heiko. and we want to contribute our drop of water to Oxfam Ethiopia water projects by walking 50km and raising funds for these initiatives.
Ander and Heiko used to work for Oxfam over a decade ago and today hold positions in "Save the Children" and "Plan International". Both still enjoy a weekly game of 5-a-side football in Barcelona with a team they formed during their Oxfam years.
Trini and her sister Toñi have done extensive walking on the way of St. James and enjoy the outdoors. For Toñi, Trini and her husband Heiko this is their second participation in an Oxfam Trailwalker after completing 100km in the 2011 edition in Germany.
Laura and Àngela are Trinis and Toñis nieces and will support us during the Trailwalker.
Bishaan significa agua.
En Etiopía, llegar al agua a menudo significa largas caminatas y cargas pesadas, que predominantemente es un trabajo para las niñas y las mujeres jóvenes que, por lo tanto, tienen que perderse la escuela.
Somos Trini, Toñi, Ander y Heiko. y queremos contribuir con nuestra gota de agua a los proyectos de agua de Oxfam Etiopía caminando 50 km y recaudando fondos para estas iniciativas.
Ander y Heiko solían trabajar para Oxfam hace más de una década y hoy ocupan cargos en "Save the Children" y "Plan International". Ambos siguen disfrutando de un partido semanal de fútbol 5 en Barcelona con un equipo que formaron durante sus años de Oxfam.
Trini y su hermana Toñi han hecho extensas caminatas en el camino de Santiago y disfrutan del aire libre. Para Toñi, Trini y su marido Heiko esta es su segunda participación en un Oxfam Trailwalker después de completar 100 km en la edición de 2011 en Alemania.
Laura y Àngela, las sobirnas de Trini y Toñi, nos van a apoyar en el Trailwalker.
Send TW (space) G5348 to 28018.
Cost: 1.2 euro (full donation to Oxfam Intermón). Fund-raising text service in solidarity campaign run by Oxfam Intermón (www.oxfamintermon.org) Customer Service: 900 22 33 00, PO Box 310 – 08080 Barcelona. Collaborators: Movistar, Vodafone, Orange, Yoigo and Euskaltel. OXFAM INTERMÓN will process your personal data to send you information and propose other types of participation. For further information and instructions on exercising your rights, you may consult the privacy policy.
Piula
El equipo
Trinidad Sola Cano
Ander Aguirre Soriano
Antonia Sola Cano

Laura Sola Cortès
Angela Sola Elias

Donativos
| Date | Name | Amount | Comment |
| --- | --- | --- | --- |
| 08.10.2021 | Mariano Ribas Tur | 40,00€ | Regalo de cumpleaños. :-D Andrea y Mariano |
| 07.10.2021 | Marc Ninerola | 200,00€ | 21 1860 6025 Agua para Monguel ! |
| 06.10.2021 | Heiko Lübben | 345,00€ | lo que faltaba :-) |
| 03.10.2021 | Heiko Lübben | 5,00€ | Chofi |
| 03.10.2021 | Heiko Lübben | 15,00€ | Chofi |
| 03.10.2021 | Heiko Lübben | 50,00€ | Gemma |
| 29.09.2021 | Josep Ferrer | 60,00€ | Vamos Ander! Heikko!! cuidado con la birra en el camino |
| 23.09.2021 | Anónimo | 200,00€ | |