Las chicas Verti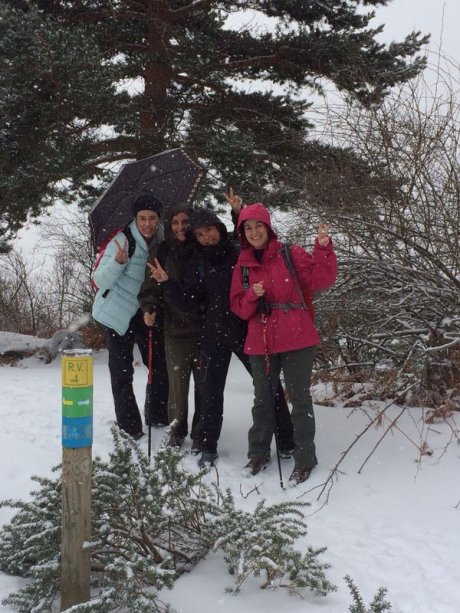 Hola a todos, somos Vero, Irene, Dori y Alejandra, "Las Chicas Verti". ¡Acabamos de embarcarnos en esta aventura! Aventura que tiene un desafío: caminar 100 km en 32 horas por una causa: " luchar contra la pobreza y la injusticia del mundo".
Caminaremos para cambiar vidas, ¿Cómo las cambiaremos? En la preparación de esta prueba dedicaremos tiempo y esfuerzo propio, y esperamos contar con todo vuestro apoyo para conseguirlo. Apoyo que nos transmitiréis en forma de donaciones, pues nuestro segundo objetivo (aparte de andar muchoooooo) es recaudar un mínimo de 1500 €, dinero que Intermon Oxfam destinará a proyectos de África, Sudamérica y el Sudeste Asiático.
Lo que dones será destinado, por ejemplo, a la construcción de pozos de agua. Hay zonas de África donde las mujeres caminan 5 horas diarias en busca de agua. Caminaremos para que ellas no tengan que hacerlo.
Necesitamos de tu ayuda, puedes donar lo que puedas, toda ayuda es bienvenida….¿ te apuntas a esta aventura con nosotras?
Hello everyone!! This is Vero, Irene, Dorina and Alejandra, "Las Chicas Verti". We have just joined this amazing adventure! An adventure with a tough challenge: to walk 100kms in 32 hours for an amazing cause: "the fight against poverty and injustice in the world".
We will walk to change lives. How do we do this? We will dedicate our own time and effort to prepare for this, but we also hope to count on your support. Support that you can give to us by making a donation, because our second goal (apart from walking loads J) is to raise a minimum 1.500€. Intermon Oxfam will use this money for their projects in Africa , South America and Southeast Asia.
Your donation will be invested in work such as the construction of water wells. There are places in Africa where women have to walk 5 hours a day in search of water. We will do the walk for them.
We need your help, you can donate whatever you can afford, every little helps…. Come and join us in this adventure!
Send TW (space) M57 to 28018.
Cost: 1.2 euro (full donation to Oxfam Intermón). Fund-raising text service in solidarity campaign run by Oxfam Intermón (www.oxfamintermon.org) Customer Service: 900 22 33 00, PO Box 310 – 08080 Barcelona. Collaborators: Movistar, Vodafone, Orange, Yoigo and Euskaltel. OXFAM INTERMÓN will process your personal data to send you information and propose other types of participation. For further information and instructions on exercising your rights, you may consult the privacy policy.
Piula
El equipo
Irene García Saez
Dorina Diakoumopoulou
María Alejandra Aguayo Valdivia

Renaud Laurent González
Alfonso Del Aguila Cazorla

Donativos
| Date | Name | Amount | Comment |
| --- | --- | --- | --- |
| 06.07.2014 | Natasha Young | 15,00€ | Well done ladies - I'm so impressed! Hope you're all recovering well! xxx |
| 05.07.2014 | Laura Koskinen | 60,00€ | Vamos Chickas Verti! |
| 05.07.2014 | Louise Cooke | 25,00€ | Go team - have fun and well done x |
| 04.07.2014 | David Crabbe | 60,00€ | Best of luck Irene and to everyone on the team. I hope you are able to enjoy it and that you have fantastic weather! Have fun. |
| 02.07.2014 | javier y erica rodriguez jorva y gallardo buchanan | 60,00€ | mucha suerte en vuestro reto y enhorabuena por él! muchos besos desde el sur! |
| 01.07.2014 | Anónimo | 25,00€ | Animo Irene y el resto del equipo! |
| 01.07.2014 | Carmel Walker | 20,00€ | Good luck and enjoy xx |
| 01.07.2014 | Anónimo | 30,00€ | Mucho ánimo campeonas !!!! |