BS KOFRADEAK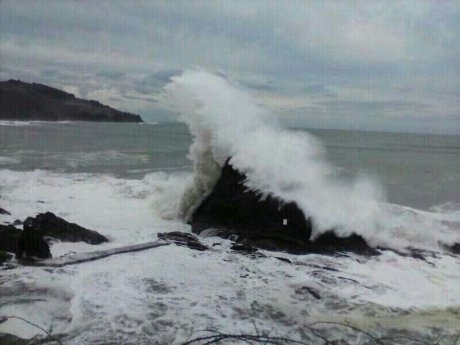 Desde las tierras del Norte, un equipo de compañeros y Cofrades en la Ilusión por superar este reto que se gana antes de la salida y que no se puede conseguir sin la solidaridad de los demás. Si a esto le sumamos nuestra vinculación al deporte en plena naturaleza con compañeros y amigos, seguro que merece la pena.
Lagun talde bat gatoz Iparraldeko Euskal lurretatik, Ilusinoaren kofradeak gara gu, ilusinoa daukagu-ta urteera hartu aurretik be irabazten dan baina besteen alkartasun barik gainditu ezin dan erronka honi aurre egiteko. Horreri batu ezkero naturan lagunakaz eta beharlagunakaz egiten dan kirolagaz daukagun loturea, seguro ahaleginak pena merezi dauala.
Send TW (space) M61 to 28018.
Cost: 1.2 euro (full donation to Oxfam Intermón). Fund-raising text service in solidarity campaign run by Oxfam Intermón (www.oxfamintermon.org) Customer Service: 900 22 33 00, PO Box 310 – 08080 Barcelona. Collaborators: Movistar, Vodafone, Orange, Yoigo and Euskaltel. OXFAM INTERMÓN will process your personal data to send you information and propose other types of participation. For further information and instructions on exercising your rights, you may consult the privacy policy.
Piula
El equipo
Unai Azumendi Barcena
Juan Ramón Rey García
Gonzalo Meñaca Corrales

Gustavo Garachena Orbe
Asier Rey Moreno

Donativos
| Date | Name | Amount | Comment |
| --- | --- | --- | --- |
| 14.04.2014 | Anónimo | 30,00€ | |
| 11.04.2014 | Anónimo | 30,00€ | WALTER WHITE&JESSE PINKMAN. |
| 09.04.2014 | AITOR IGLESIAS LOPEZ | 50,00€ | AURRERA MUTILAK!!!!! EUTSI GOGOR!!!! |
| 02.04.2014 | Anónimo | 60,00€ | ya teneis 1400!!! |
| 02.04.2014 | Anónimo | 30,00€ | Aupa txapeldunak! |
| 26.03.2014 | Anónimo | 30,00€ | gipuzko ekialde barrenetik jaso gure indarra |
| 26.03.2014 | Anónimo | 50,00€ | VAYA CUATRO PATAS PARA UN BANCO: MUNIAIN, SUSA, SANJO Y EL LEHENDAKARI. AURRERA KOFRADEAK!!! |
| 25.03.2014 | juan fran cortabitarte | 40,00€ | soy unos globeros |