AXA Ninjas – Know You Can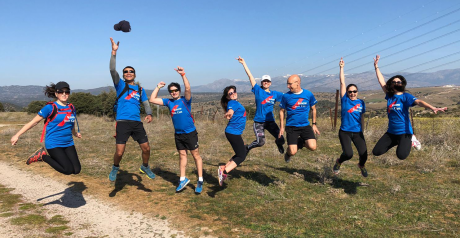 We are AXA Ninjas – Know You Can.
12 participants from the AXA International & New Markets Office have committed to be active and empower others through Oxfam Trailwalker, a fundraising endurance event conducted across the world, in which we will complete a course of 100 kilometres or 50 kilometres in a set time limit (32hours or 16hours).
Altogether, we have committed to walk a total of 600KM to support Oxfam!
We will put in the courage but your generous support will be our energy: Join us by supporting our fundraising efforts!
We aim to raise 3.000 euros donations in favor of Oxfam Intermon. This money will be allocated in more than 400 projects of cooperation, humanitarian action, fair trade and awareness, in 40 countries.
The run against hunger and poverty is about to start and we are counting on you!
Team 1 - 100 kilometres:
Members
- Marc Audrin
- Miguel Fernández Rodríguez
- Kuldeep Kaushik
- Luis García Ordóñez
Support team
- Beatriz Payás Solaetxe
- Jennifer Karime Gutiérrez Martínez
Team 1 - 50 kilometres:
Members
- Clara Martínez Elkington
- Pablo Navas Cañete
- Ivana Gligorijevic
- Ender Ertugral
Support team
- Andrew Holdway
- Carmen Sanfeliu Giner
Send TW (space) M53 to 28018.
Cost: 1.2 euro (full donation to Oxfam Intermón). Fund-raising text service in solidarity campaign run by Oxfam Intermón (www.oxfamintermon.org) Customer Service: 900 22 33 00, PO Box 310 – 08080 Barcelona. Collaborators: Movistar, Vodafone, Orange, Yoigo and Euskaltel. OXFAM INTERMÓN will process your personal data to send you information and propose other types of participation. For further information and instructions on exercising your rights, you may consult the privacy policy.
Piula
El equipo
Miguel Fernández Rodríguez
Kuldeep Kaushik
Luis García Ordóñez

Jennifer Karime Gutiérrez Martínez
Beatriz Payás Solaetxe

Donativos
| Date | Name | Amount | Comment |
| --- | --- | --- | --- |
| 04.06.2019 | Ender Ertugral | 75,00€ | |
| 04.06.2019 | Souradipta Sen | 30,00€ | All the best Kuldeep! |
| 04.06.2019 | Manish Kumar Singh | 120,00€ | All the Best! |
| 03.06.2019 | Chicky Bhavnani | 120,00€ | Kuldeep Good Luck and next year 500K ;) |
| 27.05.2019 | Najmi Sarwar | 60,00€ | Proud of you KuldeepK - Keep running ! |
| 26.05.2019 | Lopa Dash | 200,00€ | Good luck Kuldeep !!! |
| 26.05.2019 | Bala Immadisetty | 30,00€ | Best wishes Kuldeep Regards, Bala |
| 24.05.2019 | SMS | 1,20€ | |