RUNPERFECT TDC 2.0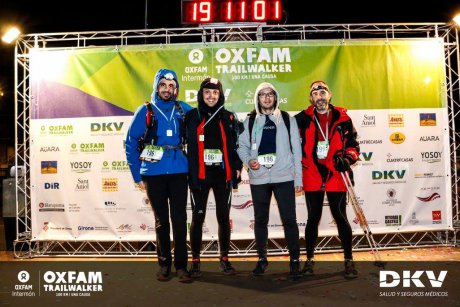 April 1st 2017 will always remain in our hearts as the day we started what was probably the biggest adventure of our modern lives. We run and walked 100km (63 miles) in 19 hours. In a mix of joy, excitement pain and relief, we crossed the finish line together to be the first and only Transperfect team to beat the sun.
And what's even more important…
- Runperfect was the second biggest collector for donations in the whole event with nearly 5k Euro.
- The four of us were together all the way
- We beat the sun!!
- We did not get injured
- We still talk to each other :)
So after giving this a lot of thought, we've seated, drank and run together since then. Roberto and Anna have offered their unconditional support to be our guardian angels again. Diego and myself are up to repeating the challenge on foot while Xavi and Nèstor have decided to do the very noble task of becoming supporters. So the lineup this year brings up two incredible sports gentlemen whose running millage combined would take you several times around the world.
Runners: Manuel, Marsel, Diego and Aitor
Support: Roberto and Anna
So we need you again to help us tip-toe to the starting line on April 14th. Please donate in our team page to help us get there and contribute to the projects for access to clean water for remote communities.
Thank you so much and all the best.
Runperfect 2.0
Envía un SMS con el texto
TW G198 al 28018
Coste 1,2 euros (donación íntegra para Oxfam Intermón). Servicio de SMS para recaudación de fondos en campaña de tipo solidario operado por Oxfam Intermón At. Cliente: 900 22 33 00, Ap. Correos 310 – 08080 Barcelona. Colaboran Movistar, Vodafone, Orange, Yoigo y Euskaltel. OXFAM INTERMÓN tratará tus datos personales con la finalidad de enviarte información y proponerte otros tipos de participación. Si quieres saber más y quieres conocer cómo ejercer tus derechos puedes consultar la política de privacidad.
Piula
El equipo
Diego Bartolome
Marsel Meeuwsen
Manuel Rodríguez

Roberto Veiga
Anna Weers

Donativos
| Fecha | Nombre | Importe | Comentario |
| --- | --- | --- | --- |
| 01.03.2018 | Mike McPherson | 30,00€ | Thank you for doing this. Beat the day! |
| 08.02.2018 | Taj Purewal | 120,00€ | Good luck team! |
| 08.02.2018 | Dmitrii Fotin | 30,00€ | Good luuuuuck! |
| 06.02.2018 | Kayla Madsen | 30,00€ | BEAT THE SUN! |
| 02.02.2018 | HECTOR RODRIGUEZ | 15,00€ | Go Barça Team! |
| 30.01.2018 | Roman Cizek | 20,00€ | |
| 19.01.2018 | Peter Michael DSouza | 30,00€ | Good luck to Aitor and team !!! |
| 19.01.2018 | Amanda Ryan | 60,00€ | Good luck Diego and team!!! |