Aspha Lions #2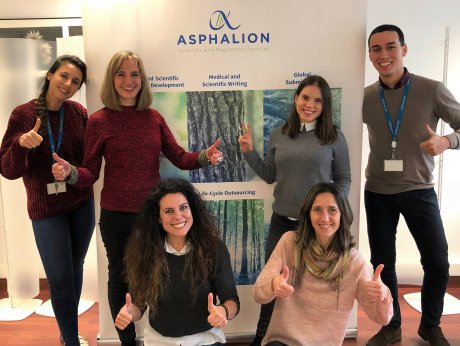 We are Sara, Consol, Beatriz, Mireia, Edu and Noelia. We are the Aspha Lions – A regulatory and scientific consultancy firm, based in the heart of Barcelona.
Our dream is to be a global reference and driving force in the evolution of the healthcare sector, offering the best environment for the individual and collective growth.
We do not only promote our values, we live by them. With our passion for improving the quality and health of individuals' lives, we are committed to the Oxfam's cause to empower the people against poverty.
Completing the 100 km will be a massive challenge, however, we are dedicated to contribute to those in need. As a Team, we wish to endure the Trailwalker through a close companionship, which will keep us going from start to end.
There is no greater gift we can get than the feeling of helping others. Together we can do some remarkable good.
Do you want to be part of our cause?
Envía un SMS con el texto
TW G204 al 28018
Coste 1,2 euros (donación íntegra para Oxfam Intermón). Servicio de SMS para recaudación de fondos en campaña de tipo solidario operado por Oxfam Intermón At. Cliente: 900 22 33 00, Ap. Correos 310 – 08080 Barcelona. Colaboran Movistar, Vodafone, Orange, Yoigo y Euskaltel. OXFAM INTERMÓN tratará tus datos personales con la finalidad de enviarte información y proponerte otros tipos de participación. Si quieres saber más y quieres conocer cómo ejercer tus derechos puedes consultar la política de privacidad.
Piula
El equipo
Beatriz Hernández
Mireia Lorenzo
Consol Bozzo

Oscar Torres
Noelia Hernández

Donativos
| Fecha | Nombre | Importe | Comentario |
| --- | --- | --- | --- |
| 06.04.2018 | ASPHALION S.L. | 610,00€ | |
| 21.02.2018 | Xavier Farrés Torrecabota | 150,00€ | Endavant Lions ¡¡¡ |
| 20.02.2018 | Marta Mulet Cantó | 30,00€ | |
| 13.02.2018 | Toni Escuder | 60,00€ | Gran equip i grans persones. La clau: sempre atents al les necessitats dels altres. Tot el meu suport. Una abraçada ben forta!! |
| 31.01.2018 | francisco javier lorenzo sempere | 100,00€ | |
| 28.01.2018 | Anònim | 30,00€ | |
| 27.01.2018 | Anónimo | 20,00€ | |