TIRITES GROGUES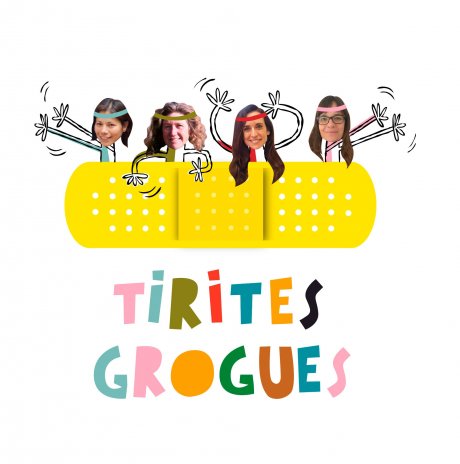 Som les TIRITES GROGUES: l'Angèlica, l'Anna, la Miriam i la Mireia. A totes quatres ens engresquen els nous reptes, l'esport, la natura i ens uneix la lluita contra les desigualtats.
I per què estem aquí? Doncs perquè hem trobat en el Trailwalker la conjunció de tots aquests valors, que els viurem (i patirem) amb entusiasme i il·lusió durant els 50K que caminarem plegades. Aquest serà el nostre granet de sorra per contribuir a construir un món sense pobresa, desigualtats i on l'accés a l'aigua no sigui un desig, sinó que esdevingui un dret fonamental.
Som TIRITES, perquè curen les ferides, i som GROGUES, per les llibertats.
Ens ajudes a fer realitat aquest repte?
Gràcies per fer un donatiu a l'enllaç DÓNA L'EQUIP.
Caminarem per a totes aquelles persones que viuen en situacions de desigualtat!
Moltes gràcies !
We are the YELLOW BANDAGES: Angèlica, Anna, Miriam and Mireia. The four of us are excited about new challenges, sport, nature and we are united to fight against inequalities.
Why are we here? Because we have found in the Trailwalker the conjunction of all these values, which we will experience (and suffer) with enthusiasm and thrill during the 50K that we will walk together. This will be our bit to help build a world without poverty, inequalities and where access to water is not a desire but becomes a fundamental right.
We are BANDAGES, because they cure wounds, and we are YELLOW, as it refers to freedom.
Would you help us to achieve this challenge?
Thank you for making a donation at the link DÓNA L'EQUIP [DONATE TO TEAM].
We will walk for all those who live in situations of inequality!
Thank you so much!
Envía un SMS con el texto
TW G553 al 28018
Coste 1,2 euros (donación íntegra para Oxfam Intermón). Servicio de SMS para recaudación de fondos en campaña de tipo solidario operado por Oxfam Intermón At. Cliente: 900 22 33 00, Ap. Correos 310 – 08080 Barcelona. Colaboran Movistar, Vodafone, Orange, Yoigo y Euskaltel. OXFAM INTERMÓN tratará tus datos personales con la finalidad de enviarte información y proponerte otros tipos de participación. Si quieres saber más y quieres conocer cómo ejercer tus derechos puedes consultar la política de privacidad.
Piula
El equipo
Miriam Manrique Ramos
Anna Puig Minguell
Angélica Esparza Chávez

Judit Pijoan Negre
Joaquim Calbó Angrill

Donativos
| Fecha | Nombre | Importe | Comentario |
| --- | --- | --- | --- |
| 30.05.2019 | Edith clotet | 60,00€ | |
| 31.03.2019 | Anónimo | 96,00€ | Berenar ESPLA I! |
| 28.03.2019 | Anna Puig | 10,00€ | Aportació Nandi |
| 27.03.2019 | Oriol Roselló Castells | 10,00€ | |
| 21.03.2019 | Sergi Jover | 20,00€ | GAAAAAS! |
| 14.03.2019 | Anónimo | 20,00€ | Això sí que és "kill two birds with one stone"!! |
| 13.03.2019 | Anònim | 20,00€ | Ànims Tirites !!! |
| 12.03.2019 | Anònim | 53,00€ | Esmorzar solidari !! |